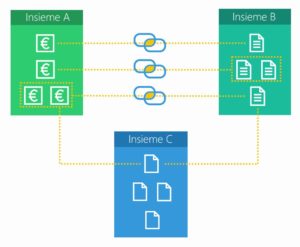 K Linx is the ENTERPRISE platform that makes digital, efficient and simplifyed the RECONCILIATION.

The heart is an intelligent engine that create links between  entities of a set (A), i.e. financial flows and entities of a set (B), i.e. account receivables, directly or going through a third set (C).
The K Linx's goal is :
Match every incoming payments with its account receivable;
Account the entry, integrating with the main ERP through files, services or RPA technology.
ACQUIRE
Digital Bank account balance (downloaded from remote banking);
Account receivables from Account or Billing System.
LINK
Automatic match of revenue transactions with related receivables. All that is not automatically matched can eventually be managed with manual matching functionality offered by the system.
ACCOUNTING
A further automatic accounting process produces for the accounting system the income receipt entries.
Current use cases, more oriented to a FINANCIAL RECONCILIATION, require that the set(A) consists in financial flows and the set(B) consists in account receivables (eg invoices, bills etc.) and the set(C) consist in details of the counterparts (eg payment notices, Sepa Direct Debit results etc.),
However new requests from already acquired or potential customers are the motivation to evolve the platform towards other usage scenarios, such as, for example, ACCOUNTING RECONCILIATION, ie the balancing of accounting entries on different accounts.

We do not exclude other possible scenarios ...

K Linx increase the incoming payment management EFFICIENCY, with benefits in ACCOUNT RECEIVABLES and CREDIT MANAGEMENT.
The platform recognizes and manage automatically every type of payment through his matching engine; the main value is when processing unstructured payments, such as:
Credit Transfer (SCT), that sometimes cause unsolicited work where the client use it in alternative to the Sepa Direct Debit, Bollettini or RIBA;
Handwritten POSTAL order.

Automatically gives to the Customer Accounts team operator the greatest possible range of matching between revenue bank transactions and account receivables, leaving the only work to visualize and check the gray cases and then   enabling the platform to create the entries in the account system.
 Why K Linx enables the efficiency of the process?
Automatic matches (the greatest part) don't need any human workability;
Gray cases suggested by the matching engine are solved in a few seconds of workability (look and check with a click);
Also manual matches are done by helpful functionalities of the K Linx platform.